We design, develop, launch, manage and market websites for businesses and churches
BigTiny Designs make websites that work!
Make a Statement
BigTginy Designs can take your vision and bring it into reality. We can take the concept that is stuck in your head or heart and turn it into a living breathing design that you can see.
BigTginy Designs can get an understanding of your business and your customers and tailor the design and structure of your site to facilitate conversions to help generate more sales.
BigTginy Designs can also help you have a unique and interesting design that sets you apart from your competitors. Nowadays all websites are beginning to look the same and having a custom designed website can help your business get noticed in a crowded space.
Contact us to get started today!
A great website can be your very best employee
Always working hard to bring in new business and retaining customers
Let's Talk
Consultation
We will review and discuss your needs, functionality, goals and expectations for your website project. We will prepare a proposal/contract based on our consultation and if accepted – the fun begins.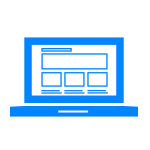 Let's Talk
Wireframe/Design
During this phase we will work together on a wireframe to determine page layouts. Design proofs will then be created and we will work with you to refine the selected design until you are 100% happy.
Let's Talk
Development
We will being production of your website on a server that you can access so that you can see your website come to life. Both front-end and back-end programming as well as final browser and usability testing will be done during this process.
Let's Talk
Launch/Post-Launch
Upon your review and acceptance of the website – we launch! Clients receive a minimum of 30 days post launch support at no charge and we make our selves available even after that time for small edits and questions.
We Build Great Things with Great Clients
Don't be afraid! We'll walk you through the entire process, hold your hand as much as you need, and help you through all the technical aspects that may seem scary. We work best with clients who leave the heavy lifting to us.
Contact us to get started today!
Choose the package that fits your needs and budget
Features
COMPARE PACKAGE FEATURES
$125/Month
$300 One time Setup Fee
3 - 5 Pages
$175/Month
$300 One time Setup Fee
6 - 10 Pages
$300/Month
$300 One time Setup Fee
11+ Pages