#Custom Website Design
Strategy
We work alongside the Strategy Team to ensure your specific goals are being reached. We have worked with hundreds of churches, and use our knowledge to create ministry movements.
Your Ministry
We take the time to get to know you. You know your ministry best, and you'll always have an open line of communication with your design team as we work through each element of your design.
Development
We work hand in hand with the Development Team who will be building your custom site. This partnership produces creativity, allows us to push BigTinyDesigns to its fullest potential.
Contact us to get started today!
A great website can be your very best employee
Always working hard to bring in new business and retaining customers
Our Church Websites are Integrated With The Following Plugins:
Easy-To-Use CMS
Streaming Video
Video Backgrounds
Stories & Testimonials
Serving Opportunities
File Sharing
No Page Limits
Paid Event Registration
Site Traffic Analytics
Custom Designs
Streaming Audio
Sermon Archives
Blogs
Prayer Requests
Photo Galleries
Form Builder
Surveys & Event Registration
SEO Optimised
Mobile Responsive
Podcast Management
Live Stream
Event Calendars
Prayer Wall
Shop – WooCommerce
Social Media Integration
Online Giving
Content Migration
Subscription Modules
Registration Modules
Unlimited Storage Options
Email (Hosting w/Us)
API Integrations
Staff Tool
Countdown Timers
Secure Pages
Translation Options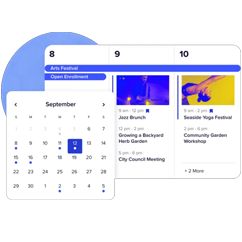 Integrated with
Events Manager
Create & Manage Events with Ease. Show off your events in a calendar grid, list, or day by day. You can easily manage frequently events for the future.
Integrated with
WooCommerce
With WooCommerce Payments, you can securely accept major cards, Apple Pay, and payments in over 100 currencies. Track cash flow and manage recurring revenue directly from your store's dashboard.
Integrated with
Causes & Donations
Give to your causes and collect donations online PayPal payments system specially built for your website. Track payment status and members/visitors who donated. Your website also supports the Seamless Donations Plugin for advanced donations.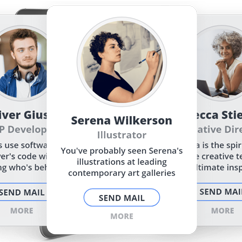 Integrated with
Our "Team" Plugin

Your visitors want to know the people who are at the heart of your church or organization because it matters. Our "Teams" plugin adds a section to your website which allows you to showcase your pastors, staff, employees on your website the easy way..
Integrated with
Testimonials Plugin
Testimonials are so important to your potential church members, it is important that you showcase them effectively on your church website and that you are regularly collecting fresh testimonials. Testimonials are a great tool to increase conversion rates on your website!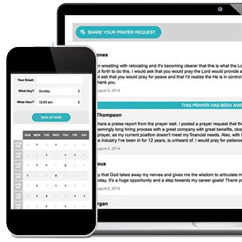 Integrated with
Prayer Wall & Requests
Prayer request application that allows users to submit requests, or pray for existing requests. All requests can be moderated from the admin section. Every time a request is submitted, the prayer requester will receive an email detailing the prayer they submitted.
Integrated with
Sermons Manager
Sermon Manager is designed to help churches easily publish sermons online. Add audios, videos, and pdf files. Upload or add from a URL. Downloadable audios & pdf files. Sermon Albums page. Categorize Sermons. Add Tags. YouTube, Vimeo videos support.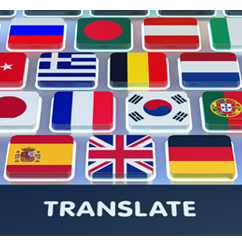 Integrated with
WP
Multiple Languages
Choose your languages for your website and start translating content. Our website comes with over 40 languages. You can also add your own language variants (like Canadian French or Mexican Spanish) using the languages editor.

BigTinyDesigns uses GiveWP for all your fundraising needs, GiveWP provides you with a powerful donation platform optimized for online giving.
Transform the way you accept online donations. With GiveWP you can accept charitable gifts through customizable donation forms, view donation statistics and reports, manage donors, and integrate with a wide variety of third-party gateways and services.

We Build Great Things with Great Clients
Don't be afraid! We'll walk you through the entire process, hold your hand as much as you need, and help you through all the technical aspects that may seem scary. We work best with clients who leave the heavy lifting to us.
Contact us to get started today!
Choose the package that fits your needs and budget
Features
COMPARE PACKAGE FEATURES
$125/Month
$300 One time Setup Fee
3 - 5 Pages
$175/Month
$300 One time Setup Fee
6 - 10 Pages
$300/Month
$300 One time Setup Fee
11+ Pages